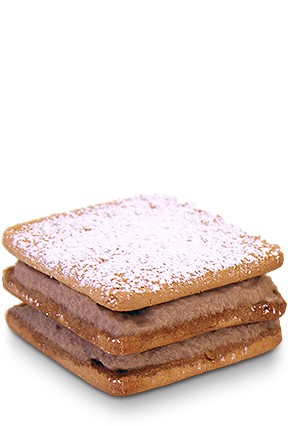 Mid-morning snack
An original "sandwich" of dry biscuits soaked in coffee and a delicate milk chocolate cream
| | | | |
| --- | --- | --- | --- |
| time required: | [ 20min. ] | servings: | x 20 |
| difficulty level: | [ easy ] | vote! | x 57 |
Composition
Rectangular dry biscuits
Milky coffee whipped cream
Coffee syrup
Method
Pour the boiling coffee over the white chocolate broken up into small pieces (picture 1) and mix vigorously into a glossy cream; gradually add the single cream (picture 2) until it blends in completely, giving you a soft, creamy consistency (for best results, use a blender).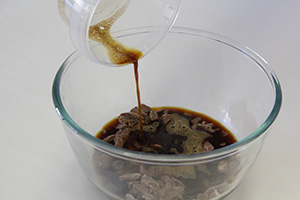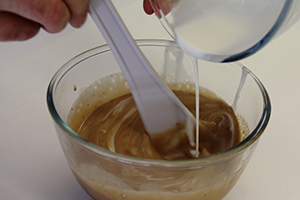 Leave in the fridge for 4 hours, then mix again using a whisk or a cream whisk (picture 3).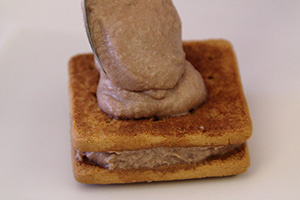 Dip a few biscuits in the coffee and place in the freezer.
Presentation
Use a spoon to fill the biscuits, placing them one on top of the other. In the middle, place the biscuit dipped in the coffee and chilled in the freezer (picture 4).
Top with a dry biscuit.
Make sure you scrupulously follow the resting times indicated.
Photo of the end result (picture 5).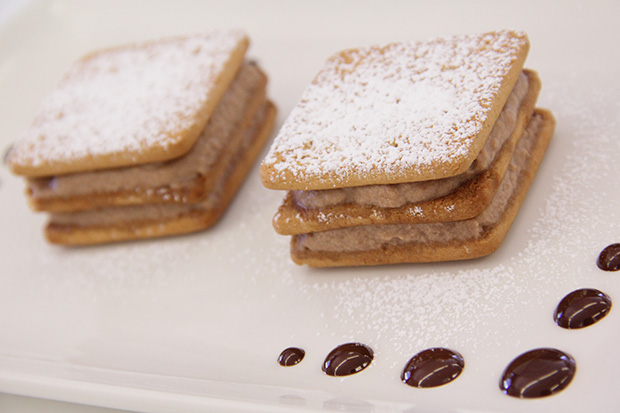 Tips
---
Coffee biscuit

The biscuit should be soaked in the coffee the day before and then frozen, so as to form a "plate" that will be easier to place in the fillings.